HH The Amir Receives Kuwaiti Delegation Led by Commerce and Industry Minister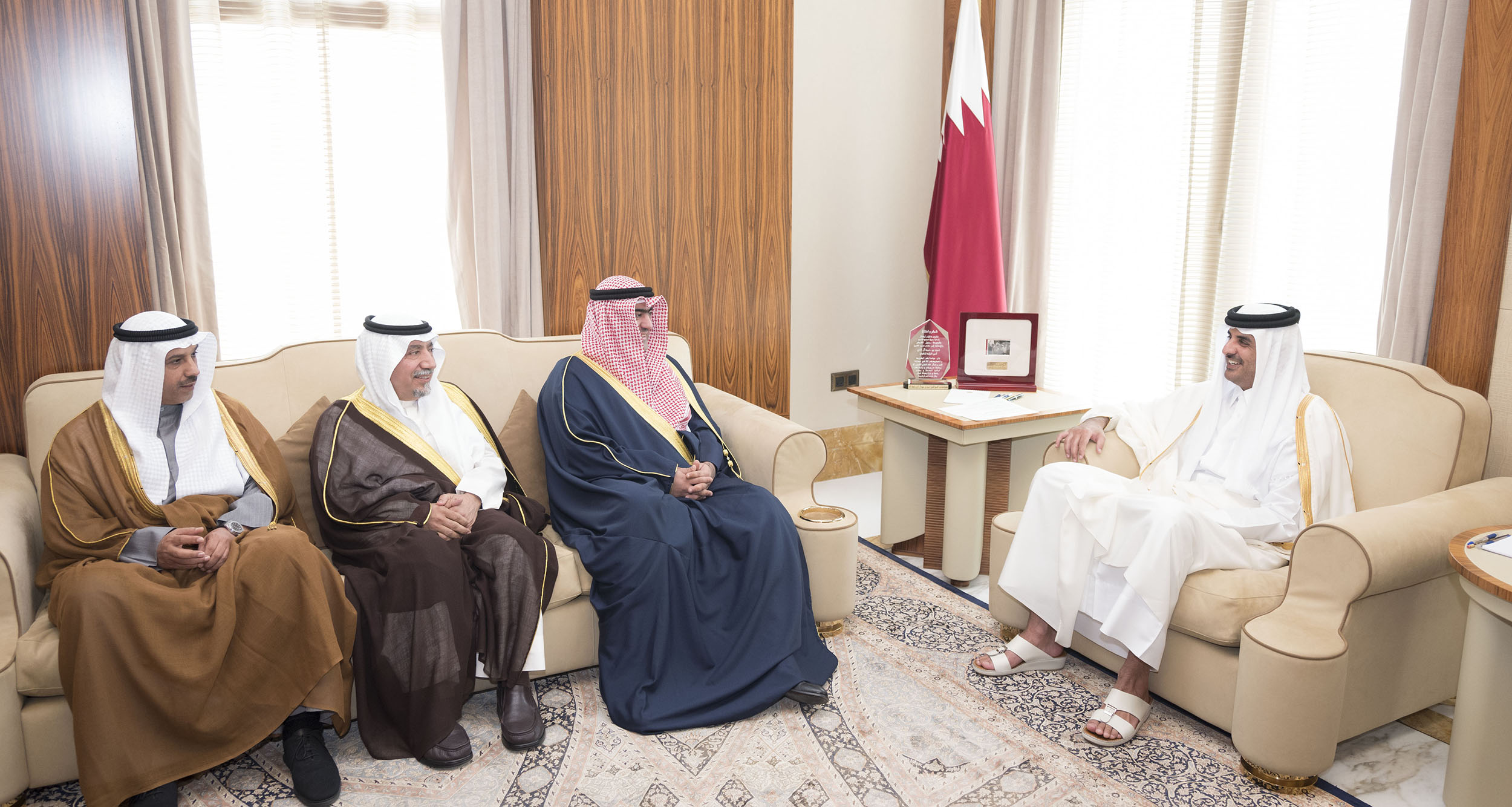 His Highness the Amir Sheikh Tamim bin Hamad Al Thani received, at his office in Al Bahr Palace, Kuwaiti delegation headed by HE Khalid Nasser Al Roudan, Minister of Commerce and Industry and Minister of State for Youth Affairs.
The delegation includes Dr Hamoud Fulaiteh, Director General of the Public Authority for Sports, Sheikh Hamoud Mubarak AlHamoud Al S abah, Deputy Director General for Construction and Maintenance of the Public Authority for Sports, heikh Ahmad Al Yousuf, President of the Kuwaiti Football Federation, and Sheikh Fawaz Mishal Al Sabah, Deputy President of Kuwait Football Association, in addition to a number of senior Kuwaiti officials and sports figures.
At the outset of the meeting, HE the Minister conveyed the greetings of HH The Amir of Kuwait Sheikh Sabah Al Ahmad Al Jaber Al Sabah to HH The Amir, wishing him good health and happiness and the Qatari people more progress and prosperity.
HH The Amir entrusted HE the Minister to convey his greetings to his brother The Amir of Kuwait, wishing him health and wellness and the brotherly people of Kuwait further development and progress.
The delegation expressed their sincere thanks and appreciation to HH The Ami for the support extended by Qatar to Kuwait in the field of sports, which contributed to the lifting of the FIFA's suspension against Kuwait Football Association last month and Qatar's approval to move 23rd Gulf Cup to Kuwait, as well as Qatar's great help to Kuwait to ensure the success of the most important sporting event in the Gulf Cooperation Council.
The meeting reviewed relations between the two countries in the fields of youth and sports.
It was attended by HH the Personal Representative of The Amir Sheikh Jassim bin Hamad Al Thani.