HH The Amir Meets Russian President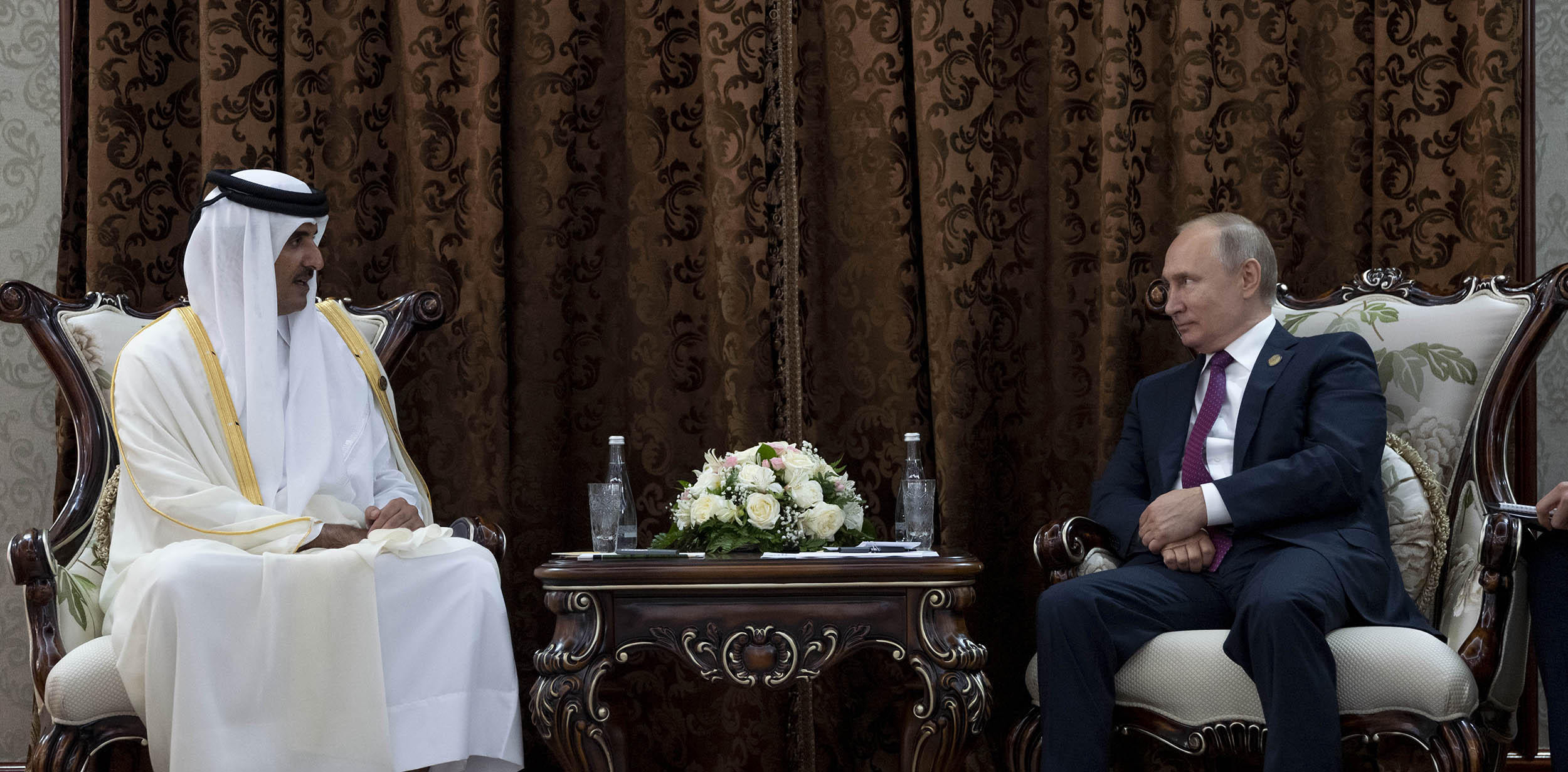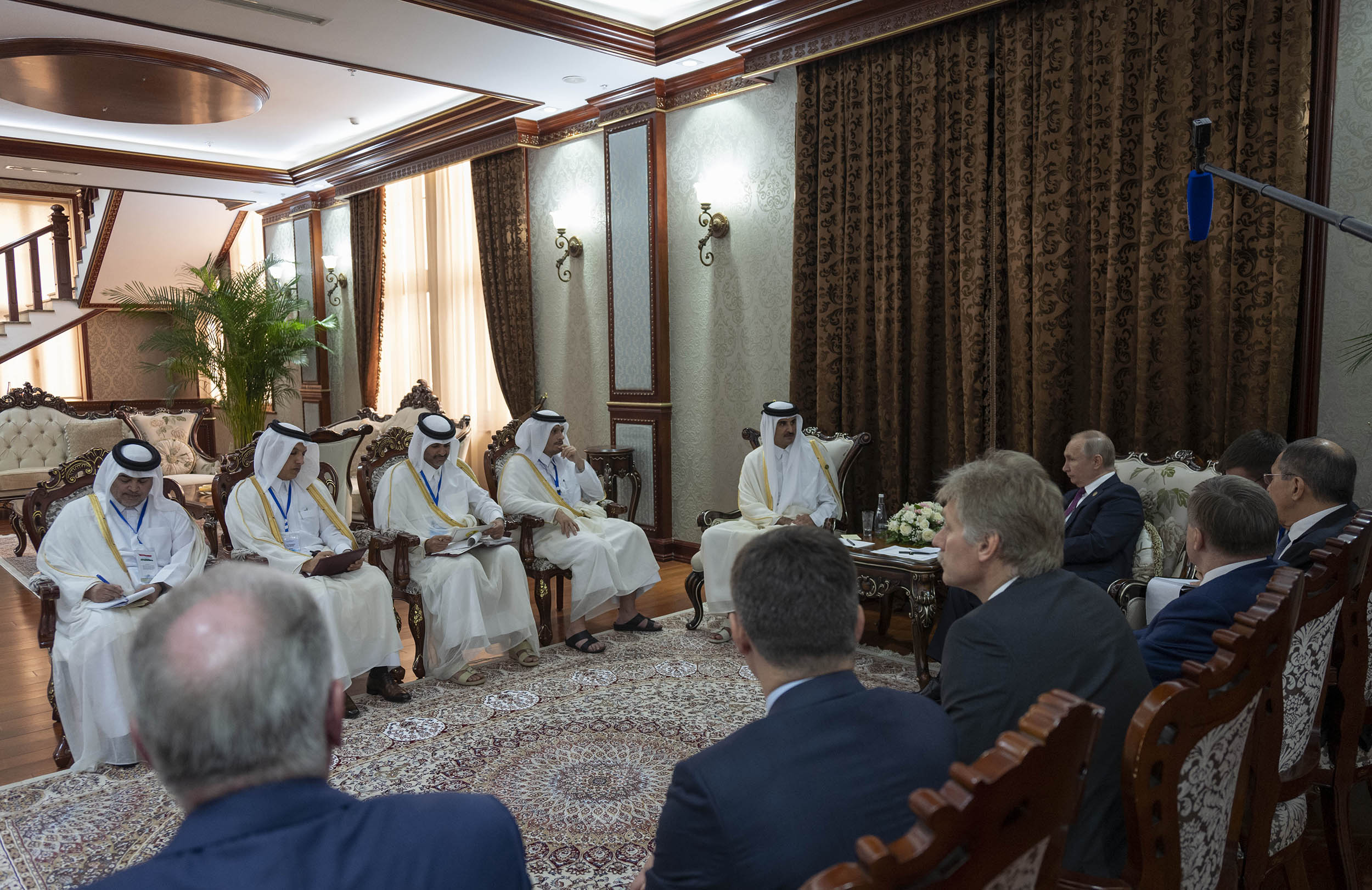 His Highness The Amir Sheikh Tamim bin Hamad Al Thani met with HE President of the Russian Federation Vladimir Putin, on the sidelines of the Fifth Summit of the Conference on Interaction and Confidence-Building Measures in Asia (CICA), at Navruz Palace in Dushanbe on Saturday.

At the outset of the meeting, HE the Russian President expressed pleasure for meeting and speaking with HH The Amir on the sidelines of the summit, noting the two countries' celebration of the Qatar- Russia 2018 Year of Culture. He noted the developing Qatari-Russian relations, and described the State of Qatar as an important and pivotal partner in the Middle East.

HE the Russian President highlighted the important, fruitful and active cooperation in the investment field, looking forward to further support for this sector. HE the President also noted other fields of cooperation between the two countries in the humanitarian, cultural, military and technical fields.

For his part, HH The Amir underlined that the Qatari-Russian relations are strong and strategic and are witnessing great development especially in the fields of energy and investment. HH The Amir stressed Qatar's readiness to increase the investments in Russia, and noted the cooperation in the cultural field, looking forward to enhance it further.

As for Qatar's preparations for hosting the 2022 FIFA World Cup, HH The Amir said that preparations are good, noting the cooperation between the two countries during the organization of Russia 2018 World Cup and the importance of enhancing the exchange of experience for Qatar 2022 championship.

HH The Amir congratulated HE the Russian President for the success of St. Petersburg International Economic Forum 2019, which the State of Qatar took part in recently and reviewed the business environment in Qatar and the overall competitive advantages offered by the Qatari market to international companies and investors.

HH The Amir and HE the Russian President also reviewed the strategic relations between the two countries and its development in various fields, and means of promoting them to broader horizons, especially in the political, military, economic and educational areas and others for the joint interest, in addition to developing the Qatari-Russian business council and the commercial and investment areas, and encouraging businessmen in both countries to establish joint projects.

The two sides also exchanged views on the current regional and international issues, mainly the developments in Palestine, Syria, Libya, Yemen and Sudan. Concerning the situation in the Gulf, both sides stressed the need to resolve all disputes through dialogue and diplomatic means, and to give priority to the supreme interest of peoples in order to preserve security and stability.

The meeting was attended by a number of Their Excellencies members of the official delegation accompanying HH The Amir. From the Russian side, the meeting was attended by a number of Their Excellencies the ministers and senior officials.