HH The Amir, HH The Father Amir Attend National Day Parade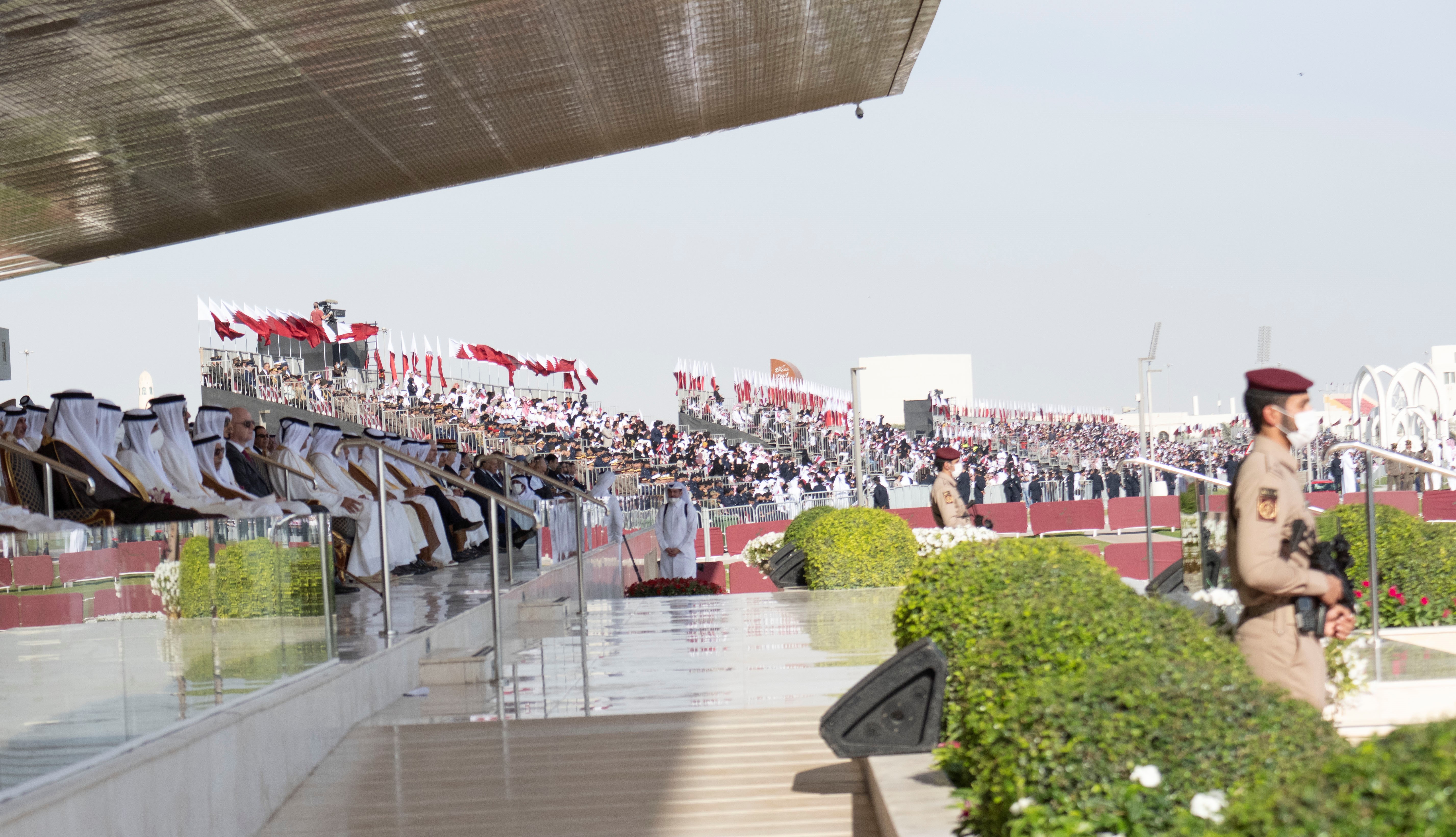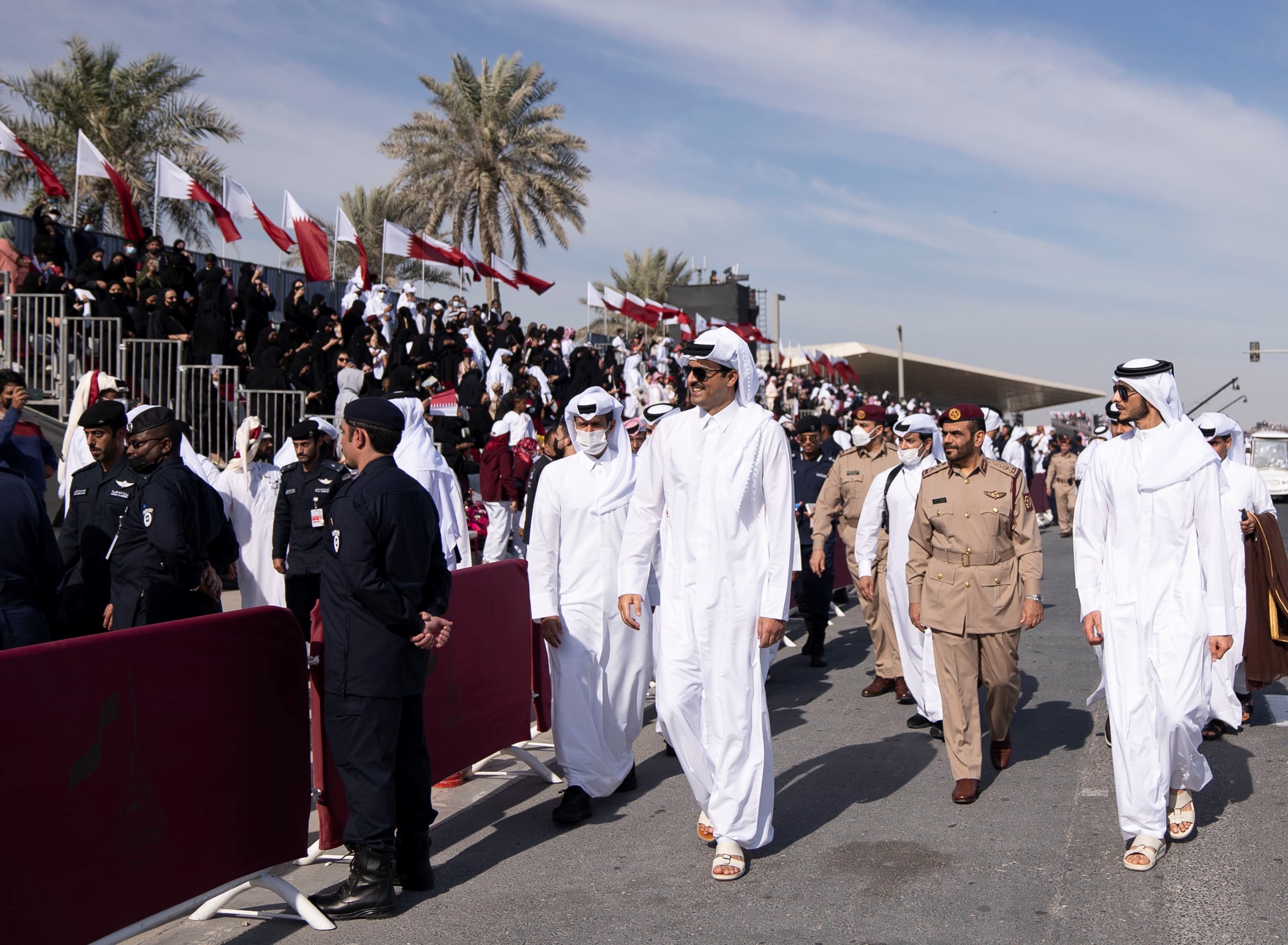 His Highness The Amir Sheikh Tamim bin Hamad Al Thani attended the 2021 National Day Parade, which was held today morning on Doha Corniche.
HH The Father Amir Sheikh Hamad bin Khalifa Al Thani also attended the National Parade.
The parade was attended by HH Personal Representative of HH The Amir Sheikh Jassim bin Hamad Al-Thani, HH Sheikh Abdullah bin Khalifa Al-Thani, HE Sheikh Jassim bin Khalifa Al-Thani, HE Prime Minister and Minister of Interior Sheikh Khalid bin Khalifa bin Abdulaziz Al-Thani and a number of Their Excellencies Sheikhs and Ministers.
The parade was attended by HE Speaker of the Shura Council Hassan bin Abdullah Al Ghanem, and a number of Council members, in addition to a number of Their Excellencies the country's guests, including HE President of FIFA Gianni Infantino, HE Minister of Interior of the French Republic Gérald Darmanin, HE Minister of Youth and Sports of the Republic of Tunisia Kamal Daqish, HE Minister of Foreign and European Affairs of the Republic of Malta Evarist Bartolo, HE Secretary General of the Interpol Jurgen Stock, and HE Commander of the U.S. Air Forces Central Command Lieutenant-General Gregory M. Guillot.
The parade was also attended by a number of branch and unit commanders, senior officers of the Armed Forces and the Ministry of Interior, in addition to notables and participating entities.
Following the National Anthem and the firing of 18-shot gun salute to celebrate Qatar National Day, the national parade started with a display of a group of modern naval vessels, including transport and logistical support ships, speedboats, ships and combat boats equipped with the latest defensive and offensive systems, followed by an air show of various types of F-15 'Ababil' and Rafale 'Al Adiyat', Mirage Sniper multi-mission fighters, defensive and offensive, and Typhoon 'Al-Dhariyat' and the helicopter group was headed by Apache 'Sajeel' helicopter, in addition to combat aircraft, helicopters, air transport, cargo aircraft, and evacuation aircraft.
Then the infantry of the armed forces started their show, led by Leopard tank and two Jeopardy air defense armored vehicles, and the Land Forces, the Air Force, the Navy, the Air Defense, the Military Police, the Border Corps, the various military colleges, the Joint Special Forces, the Amiri Guard and the Interior Ministrys infantry, the Establishments and Authorities Security Department forces and Al Fazaa forces, followed by a show of Lekhwiya, with the entry of various military factions, horsemen and camel cavalry. The march concluded with the entry of paratroopers and air military shows, and was held amid precautionary and preventive measures against the Coronavirus (Covid-19).