HH The Amir, HH The Father Amir Attend National Day Parade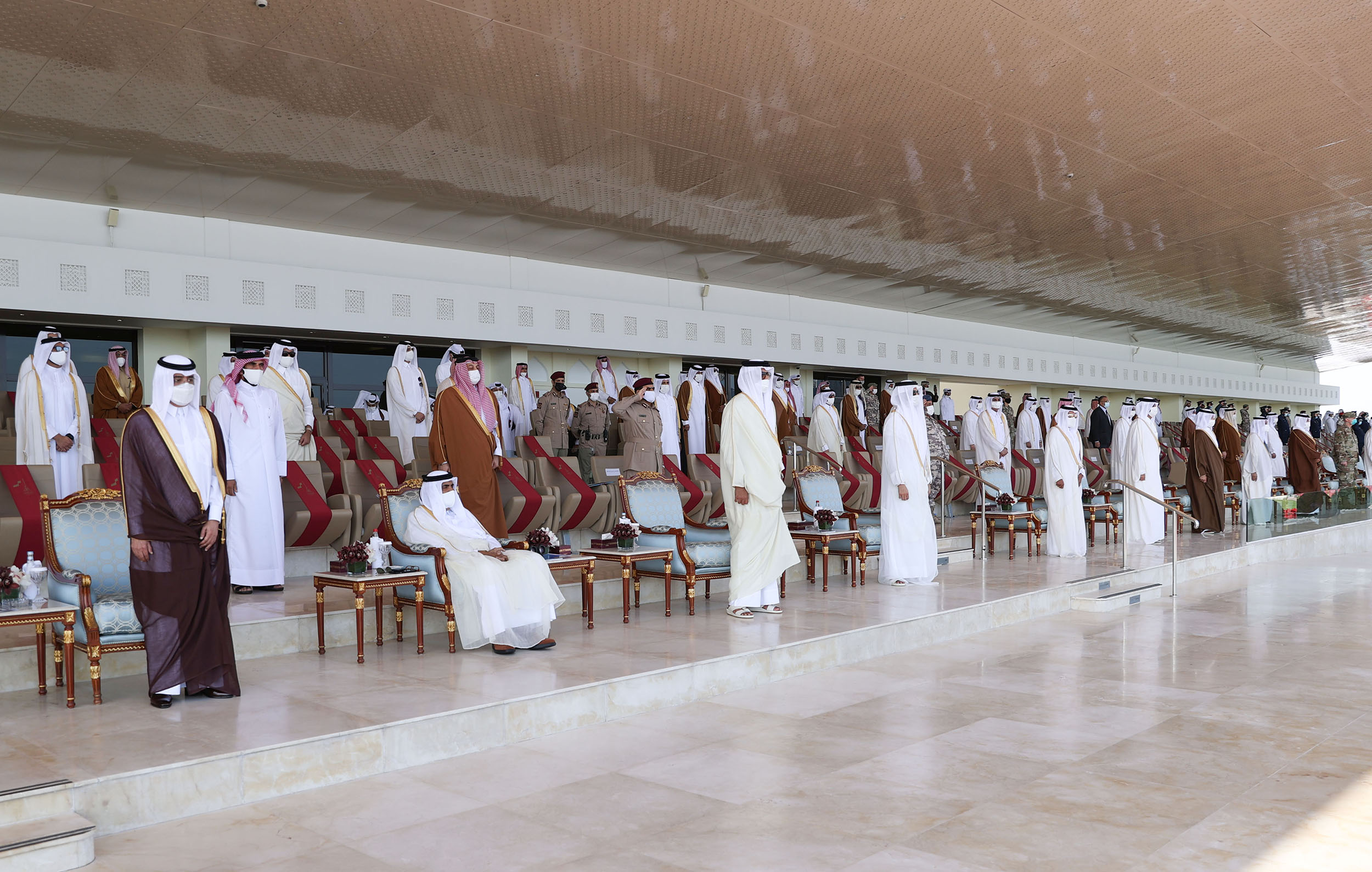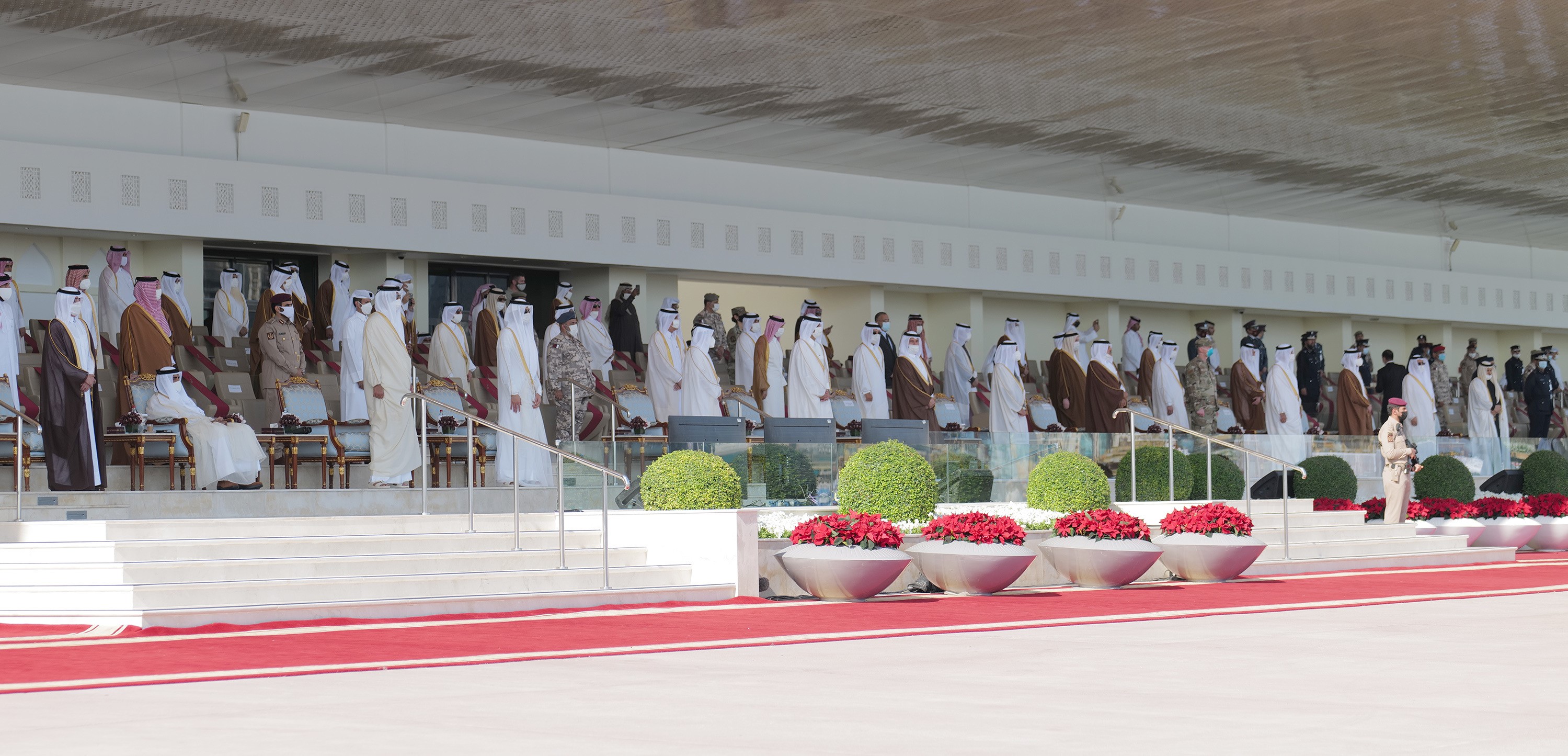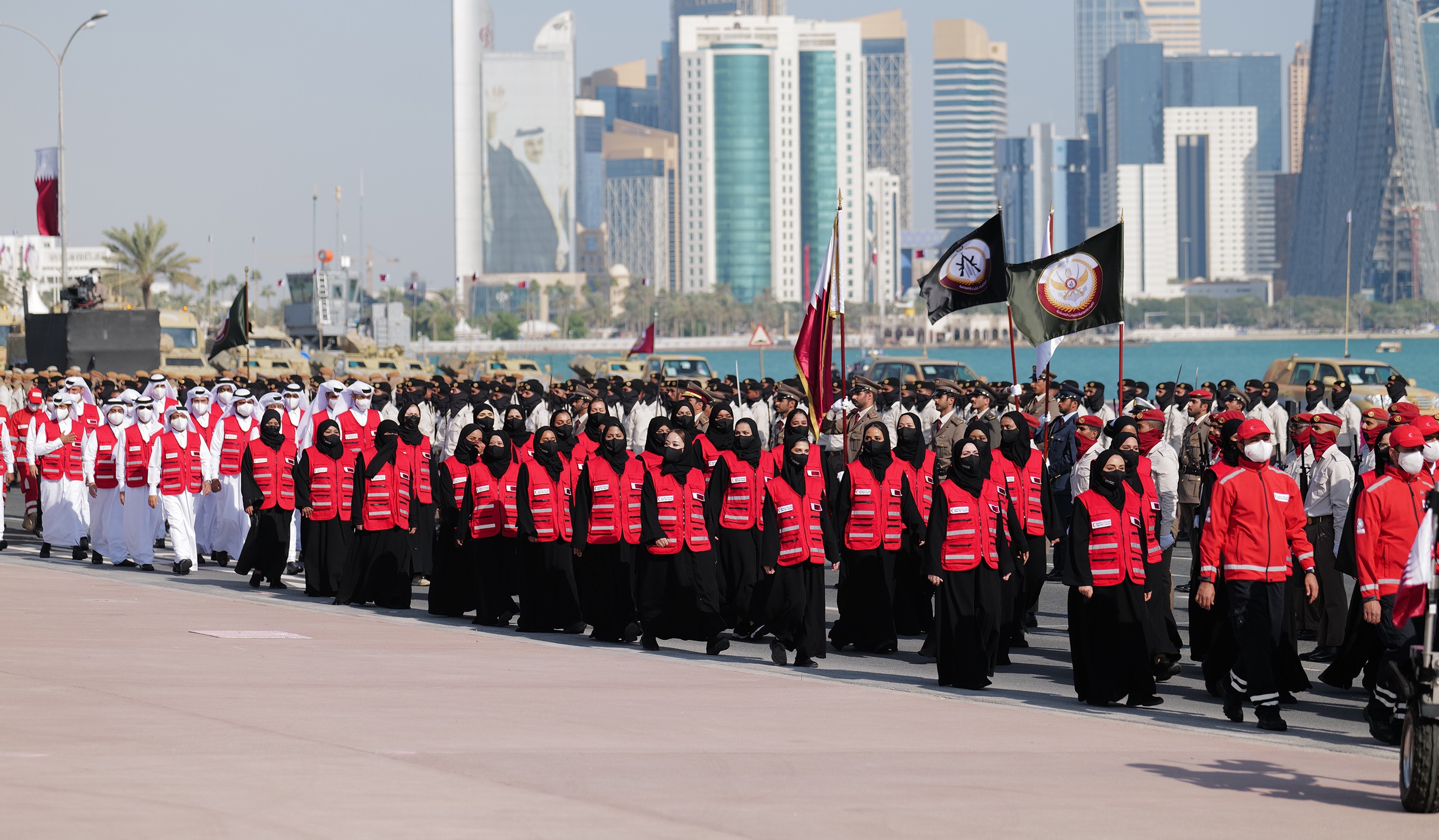 His Highness The Amir Sheikh Tamim bin Hamad Al Thani attended the 2020 National Day Parade, which was held on Friday morning on Doha Corniche amid precautionary and preventative measures imposed by the Coronavirus (Covid-19) this year.
HH The Father Amir Sheikh Hamad bin Khalifa Al Thani also attended the National Parade.
The parade was attended by HH Personal Representative of HH The Amir Sheikh Jassim bin Hamad Al Thani; HH Sheikh Abdullah bin Khalifa Al Thani; HH Sheikh Mohammed bin Khalifa Al Thani; HE Sheikh Jassim bin Khalifa Al Thani; HE Prime Minister and Minister of Interior Sheikh Khalid bin Khalifa bin Abdulaziz Al Thani and a number of Their Excellencies Sheikhs and Ministers.
The parade was also attended by HE Speaker of the Shura Council Ahmed bin Abdullah bin Zaid Al Mahmoud, and a number of members of the Shura Council, in addition to a number of Their Excellencies guests, including HE Commander of the US. Air Forces Central Command Lieutenant General Gregory Guillot.
It was also attended by a number of branch and unit commanders, senior officers of the Armed Forces and the Ministry of Interior, in addition to notables, families of the health sector, and participating parties.
Following the National Anthem and the firing of 18-shot gun salute to celebrate Qatar National Day, the national parade started with the entry of the White Army consisting of doctors, nurses, Qatar Red Crescent Society employees and volunteers who cooperated with the health sector during the fight against the outbreak of the Coronavirus (Covid-19) pandemic, as the armed forces sang a song poem in appreciation of their efforts to address this pandemic.
After that, the parade of the Armed Forces infantry led by the national flag displayed the flag group consisting of 1000 soldiers; followed by the parade of the ground forces; the parade of the air force; the parade of the naval forces; armored personnel carriers; special forces; military police; support forces; the Amiri Guard, with the entry of the vehicles, armored vehicles and parachute jumping.
Then, the teams of the Ministry of Interior and Civil Defense started their show with a line of facilities security vehicles; military police, rescue police department (Al Fazaa); followed by the parade of internal security force (Lekhwiya), and a show of the armed forces' armored vehicles, tanks, air defense systems, military police vehicles, anti-terrorism vehicles, military communications systems and electronic warfare in addition to a naval show featuring Amiri naval forces' vessels in addition to warships and speed boats that are equipped with the latest defense systems.
The parade concluded by the entry of horsemen and camel cavalry and an air show featuring several aircraft types including "Rafale" multi-purpose jet fighter; Mirage multi-mission defensive and offensive fighters; "Apache" attack helicopters; "F-15" warplanes; and "Typhoon" in addition to other military combat aircraft, helicopters, airlift, cargo aircraft and show aircraft.