HH The Amir and HH The Father Amir attend the 10th National Day Parade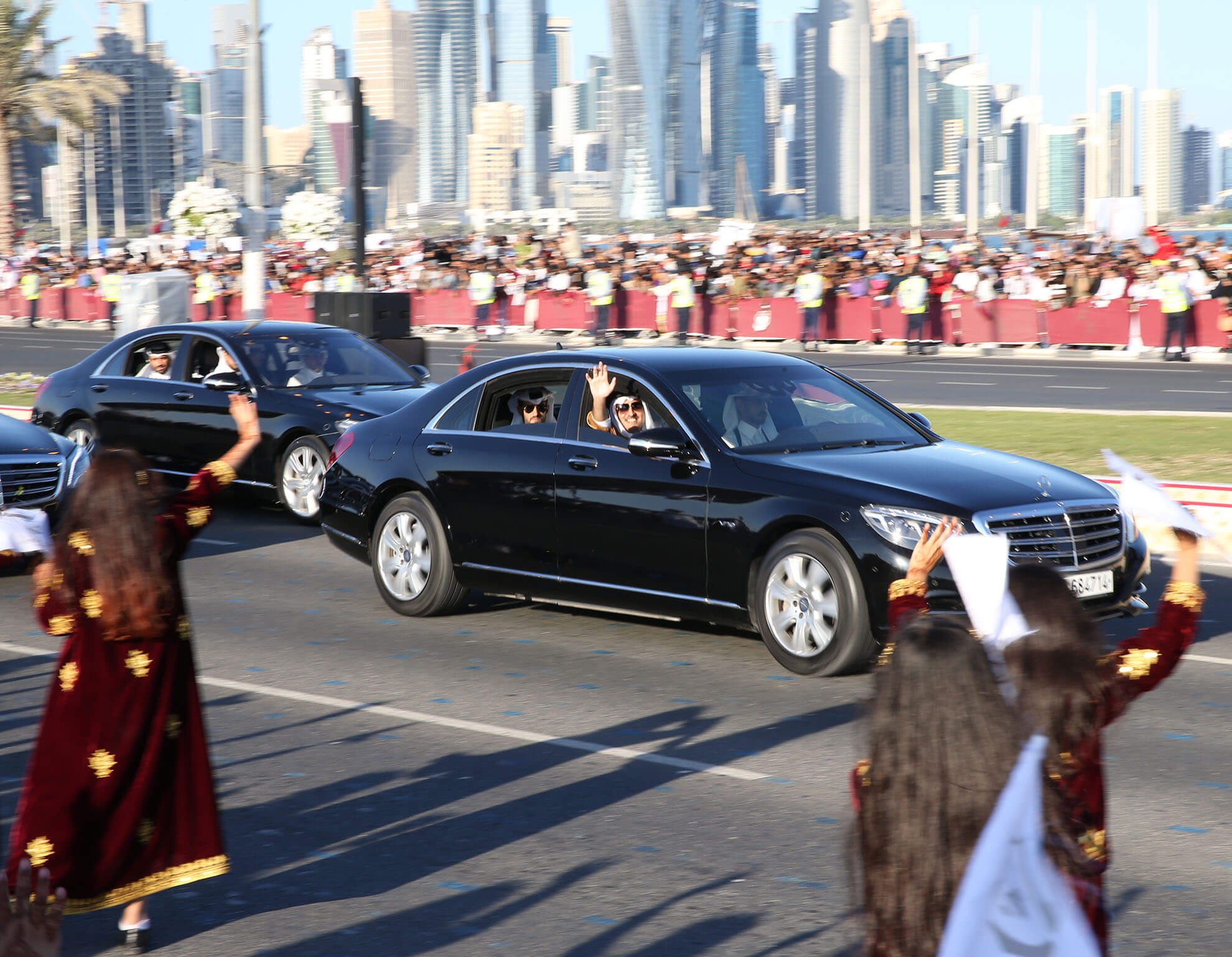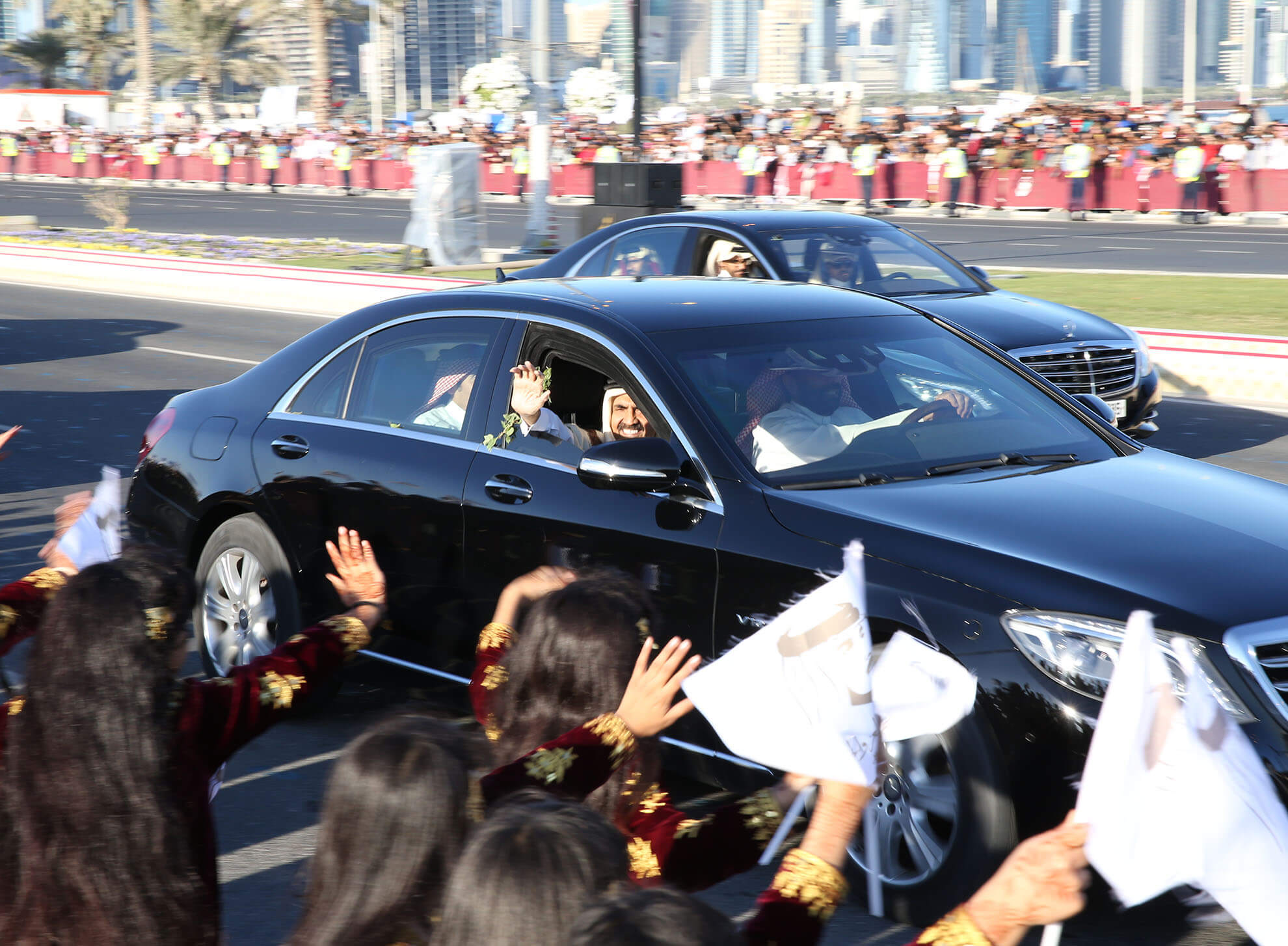 HH The Father Amir upon arrival to attend National Day Parade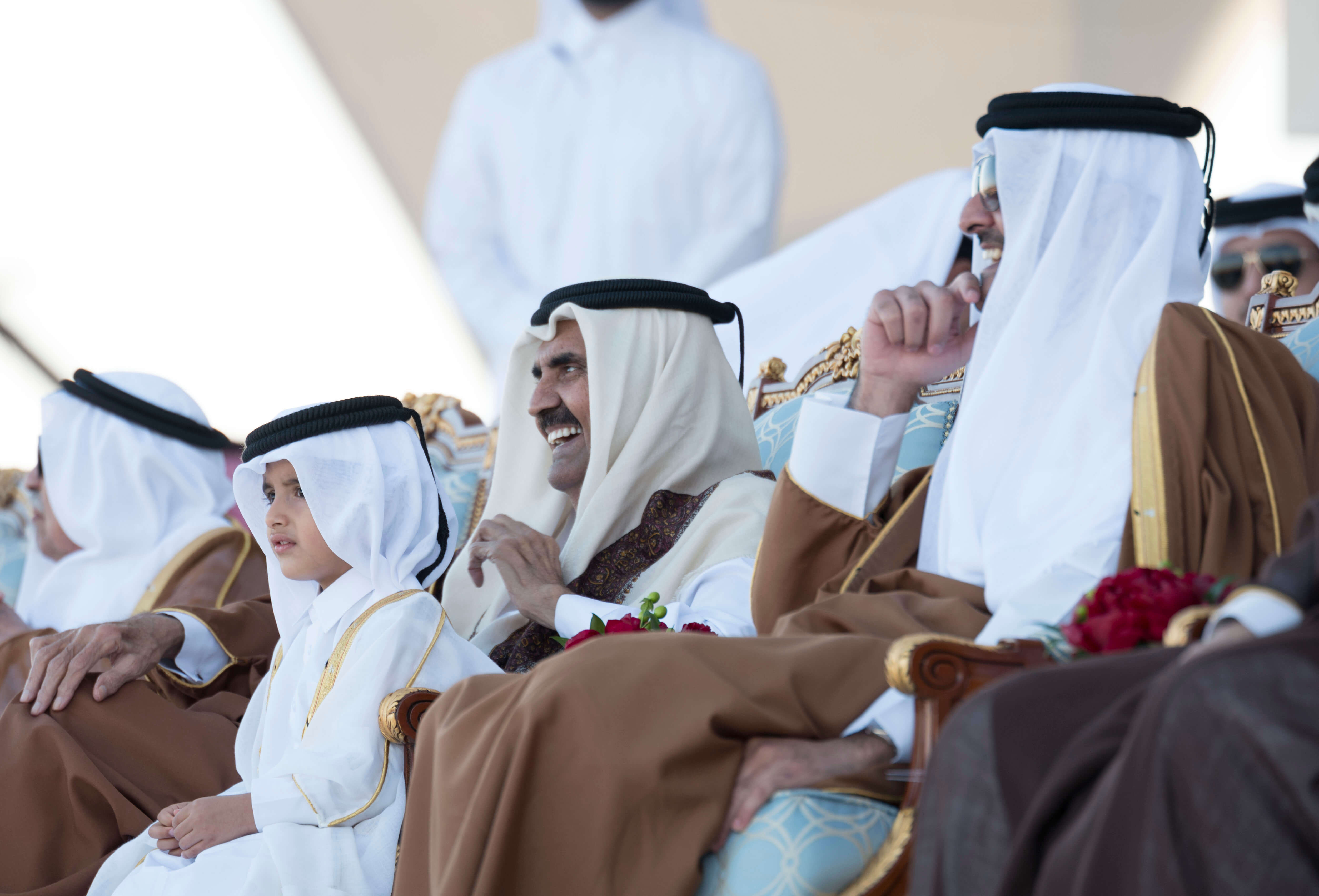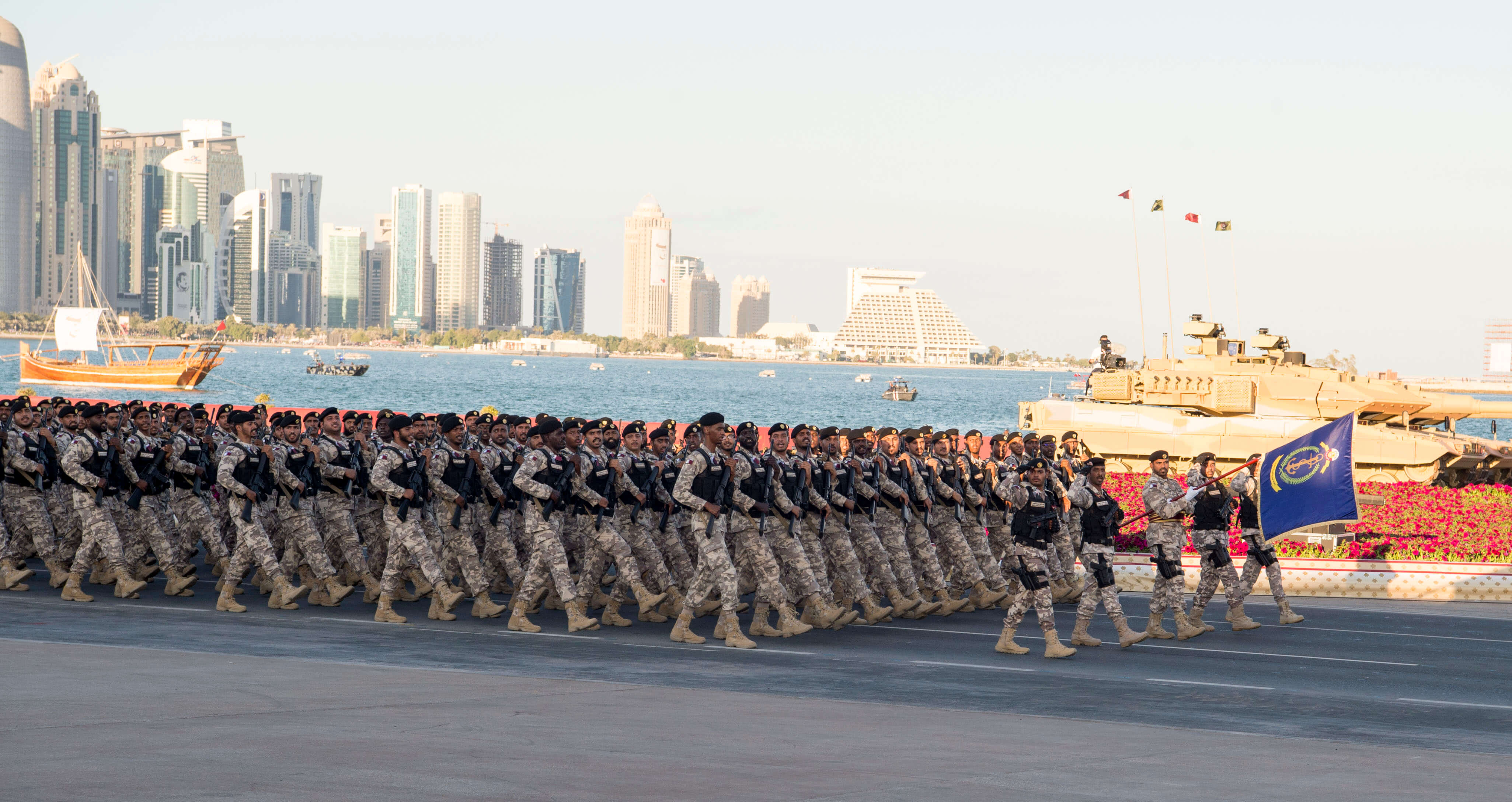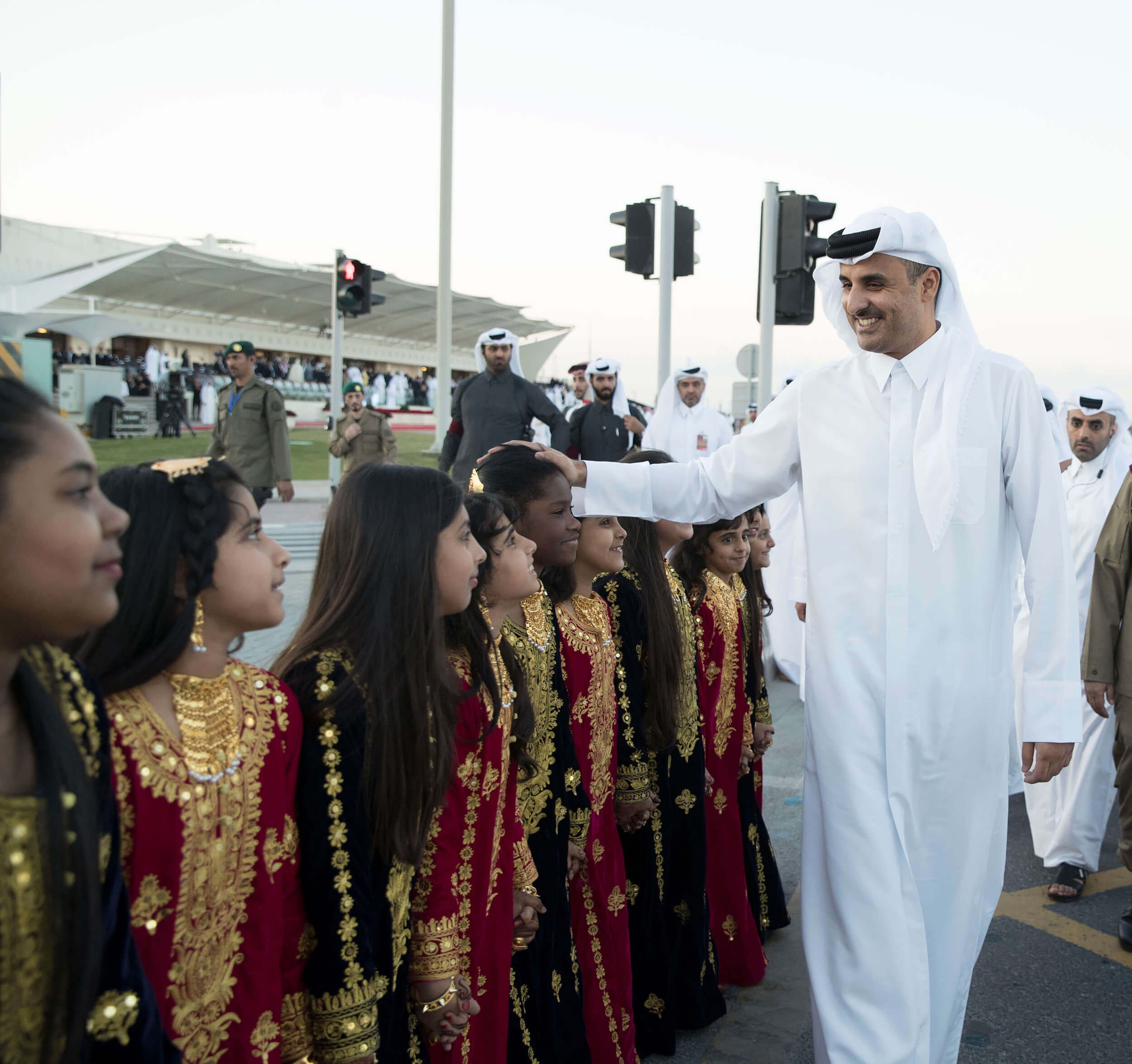 HH The Amir greets the children attending the National Day Parade
HH The Amir greets the crowds attending the National Day parade
His Highness The Amir Sheikh Tamim bin Hamad Al Thani attended the 10th National Day Parade, which was held today afternoon on Doha Corniche.
HH The Father Amir Sheikh Hamad bin Khalifa Al Thani also attended the National Parade.
The parade was also attended by HE Sheikh Abdulaziz bin Khalifa Al Thani, HH Sheikh Jassim bin Hamad Al Thani, Personal Representative of HH The Amir, HH Sheikh Abdullah bin Khalifa Al Thani, HH Sheikh Mohammed bin Khalifa Al Thani, HE Sheikh Jassim bin Khalifa Al Thani and Their Excellences sons of HH The Father Amir.
HE the Prime Minister and Minister of Interior Sheikh Abdullah bin Nasser bin Khalifa Al Thani and HE Speaker of the Advisory Council Ahmed bin Abdullah bin Zaid Al Mahmoud also attended the Parade along with a number of Their Excellences Sheikhs, Ministers, esteemed guests of the country, members of the Advisory Council, heads of diplomatic missions accredited in the State and number of senior officers of the Armed Forces and the Ministry of Interior, as well as dignitaries and scores of citizens and residents.
The show began with the national anthem, then verses from the Holy Quran were recited. Eighteen artillery rounds were then launched to mark the national day of the state.
The parade began with aerial displays of various types of warplanes, combat, helicopter, reconnaissance, transport and cargo aircraft followed by Amiri Cavalry and Camel Corps of the Amiri Guard and the Guards of Honor.
Then the parade began led by the Flag of the State of Qatar followed by lines of infantry factions of the Armed Forces with their vehicles, special forces, the Interior Ministry infantry with their vehicles, Civil Defense with their vehicles and the Internal Security Forces "Lekhwiya" with their vehicles in addition to a show of modern armored vehicles and military equipment. The Parade also included a maritime show featuring striking boats and modern naval vessels.
Following was the parade show team which performed different forms of individual and group skydiving featuring the Flag of the State of Qatar.
The National Parade saw participation of all the Armed Forces land, air and naval units, as well as the Ministry of Interior's Civil Defense Force, Coasts and Borders Security, Traffic and Police College along with National Service cadets and a group of school students in military uniforms, in addition to classic cars, and a number of traditional boats.